Be A Bucket Filler: 100 Ways to Fill a Bucket For Someone Else & Yourself
This pocket-sized, inspirational mini-book makes the perfect gift and is a kindly reminder to fill your life with a gratitude attitude.
Be A Bucket Filler is $6 + S&H and available for purchase through PayPal.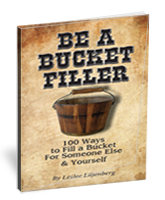 Salt of the Earth Cookbook
I had already started my culinary adventure before the movie Julie and Julia was created. When I accidentally picked up Julia's book, My Life in France,  I fell in love with her adventure and knew that I could do it to. Prior to reading her book I had attended a Writers Retreat in May of 2009 and it made me realize that I wanted to do something with my writing, but what did I have that was so much better than anything else? It just so happened that I was on the committee for a local organization that the cause was the prevention of domestic violence.
I thought that it would be great to bring these women together to write and to cook. They were trying to start their lives over and they had so much inside that seemed needed to be let out. Writing is one of those ways. The retreat that I had gone to had brought out emotions I did not even know existed within myself so why could this not work for others?
I love to write and to cook so I decided to bring them together into the Salt of the Earth Cookbook. A way to bring people together groups of women, men and women and kids. This would be writing and cooking from the soul–for the soul. The Simple Cook-when I first started to approach my friends about participating they thought it was cool but they would say "I can't cook or I can't write" Well here is the chance to learn. So many people are afraid of stepping into new territory. I had to find a way to get to them.
Cooking does not have to be hard and writing does not need to be judged. So I launched my first group in September of 2009. I wanted a collaboration of heart and soul. People spending time together-cooking and then sharing it together. As we complete dinner we start the writing exercise and as those in the group want to share they can. If they want to submit it for the book they can or keep it to themselves.
What came of this process is the Salt of the Earth Cookbook.
This book is part cookbook, stories of life and poetry. It blends tastes, sight, sounds and feeling together for everyone to enjoy. The message to take away from this book is that Christianity, as well as all religions, have many facets.  None of us are completely right or wrong. You can be a good Christian and still enjoy a good time, and throw your head back and laugh out loud!  Judgment of others is not our job here on Earth or anywhere else for that matter.  So live, love, laugh, pray and enjoy life to the fullest.
Now join the Women of Salt of the Earth in discovering new recipes, ideas and writings. I truly think you will relate and see yourself in many of the stories. You may find that the lives of these women are really the same as yours. We all have a different story–ahh–but we do all HAVE a story.
Salt of the Earth is available right now through PayPal for $20 + S&H. It makes a wonderful gift!